FOOD SPECIALIZE CO., LTD.

Address:
地址:790 MOO 2 BANGPOO INDUSTRIAL ESTATE
Fax:66 2 3230846
E-mail:sarute@foodspecialize.com
Web:
核心业务: 生产商/Producer
我们在寻找: 经销商/代理商 进口商
Show Catalogue 展品类别
THAI DANCER SAUCES
Introduction 公司简介
Founded in 1978 by a young entrepreneur who has a strong passion and pride in Thai food, Food Specialize Co., Ltd. is a food manufacturing and export company that strive to let people around the world experiences the deliciousness of Thai products. Over the past 38 years, the company has been providing consumers with authentic, flavourful Thai food products under " Thai Dancer" brand.
With the commitment to provide flavourful, yet hygienic products, on-time delivery, and satisfactory to customers, the company has been exceptionally well-received, which results in extensive sales around the world. The company has been delicately providing a wide range of food products and ingredients produced in Thailand such as dipping and seasoning sauces, cooking sauces and pastes, ready to eat meal, and grocery items. Up to date, over 300 SKUs of food products from Food Specialize Co., Ltd. have been provided to consumers in over 35 countries.
As one of the pioneers in food export industry, Food Specialize Co., Ltd. has developed thorough knowledge and expertise in this field. The company is aiming to let the rest of the world experience the real Thai food made from high-quality ingredients at impressive prices.
点击图片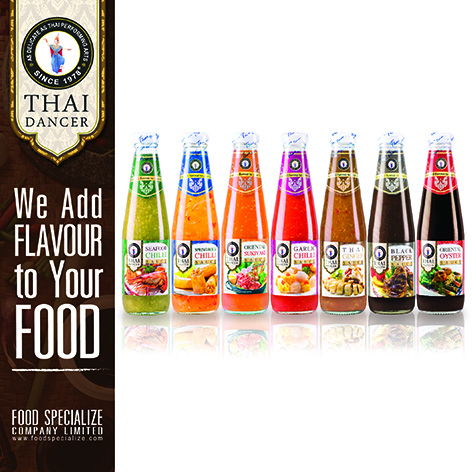 ×