DROPS GIDA SAN. TIC. A.S.

Address:
地址:Yeni Mahallesi Kayseri Caddesi No: 32 Aktas Mevkii Merkez Nigde
Fax:90 388 2375334
E-mail:mehmet.yildiz@fruitdrops.com.tr
Web: www.fruitdrops.com.tr
核心业务: 生产商/Producer 经销商/代理商/Importer/Agent 进口商/Importer 在线平台/商超/Online Platform/ Department Store 协会媒体/Association/Media
我们在寻找: 经销商/代理商 进口商 合资伙伴(合作代理)
Show Catalogue 展品类别
Benorganic
Introduction 公司简介
Fruit Drops is a brand producing Organic Fruit Juices, 100% Fruit Juices, nectars, fruity drinks with a continuous expansion of the product portfolio by the R&D activities. Drops products are present in both domestic and international markets with 18 different tastes in any size.
Drops is also making Private Label Production for numerous companies with several options attractive pouch, tetra, pet and glass bottles. Private Label Fruit Juice production can be made with both conventional and organic fruits according to customer's request.
All products are certified TSE, ISO 9001:2008, KOSHER, HALAL, Organic Master (ORGANIC, EU ORGANIC, JAS ORGANIC).
Nearly all of these products are produced from carefully selected fruits grown in GOKNUR AŞ.'s own orchards like that the 'FROM TREE TO BOTTLE' motto is fulfilled.
Fruitdrops生产有机果汁、100%纯果汁、果汁饮品、果肉果汁,及不断研发的新产品。产品畅销国内外,目前可提供18种口味任何包装规格的产品。
Fruitdrops还可根据客户公司需求定制产品形式,如袋装、无菌盒、PET瓶、玻璃瓶等。产品内容包含常规果汁和有机果汁,根据客户具体要求而定。
所有产品均通过TSE、ISO9001:2008、KOSHER、HALAL、Organic Master等认
点击图片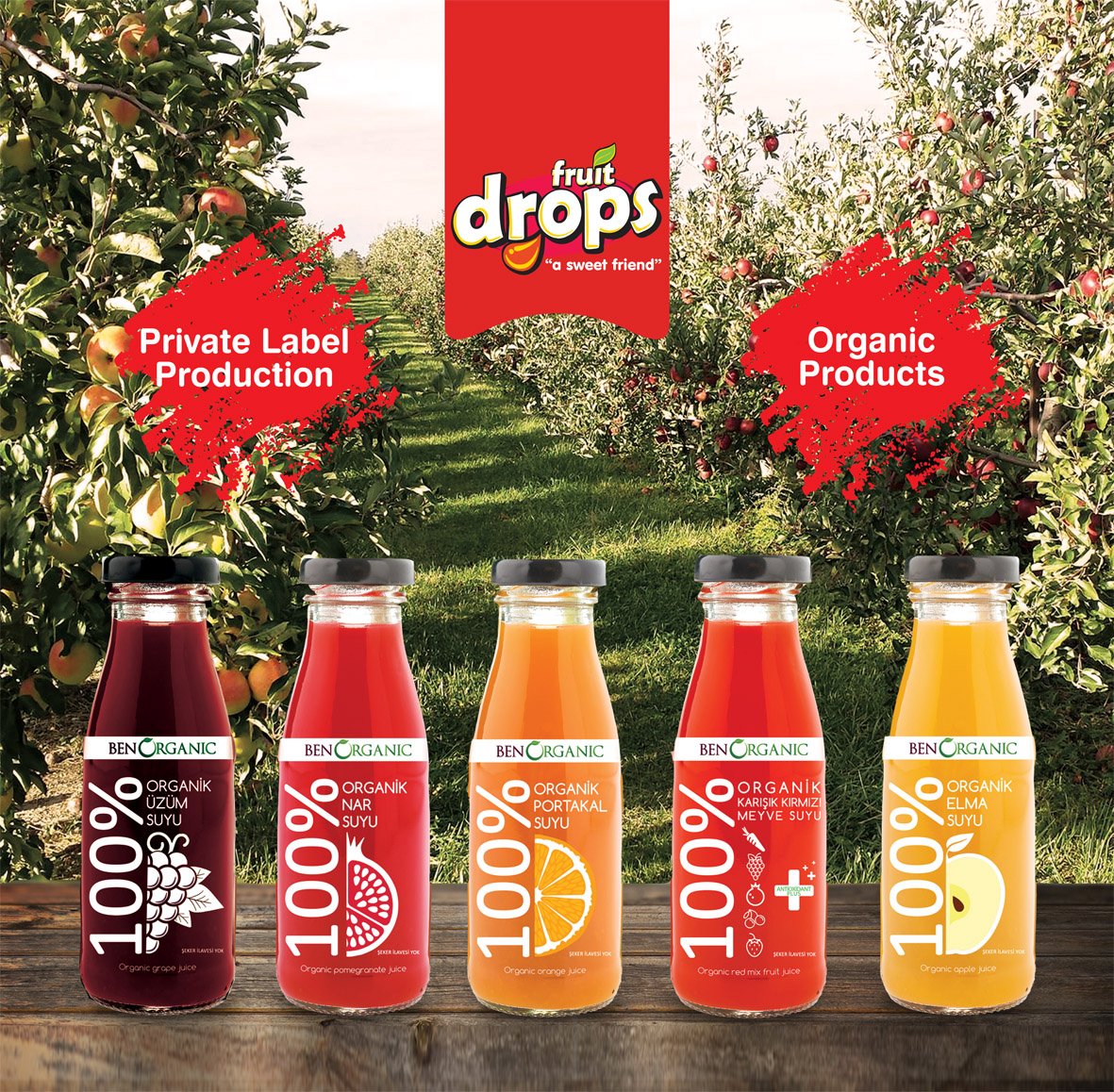 ×