HT GROUP
HT集团
Address:
地址:31-37 Park Royal Road
Fax:44
E-mail:grocery@htdrinks.co.uk
Web: www.htgroupcompanies.co.uk
核心业务: 生产商/Producer 经销商/代理商/Importer/Agent 进口商/Importer
我们在寻找: 经销商/代理商 进口商
Show Catalogue 展品类别
HT Drinks - Beers, Wines, Spirits, Grocery, Soft Drinks
Introduction 公司简介
Founded in 1985 the HT Group of Companies is a leading drinks and grocery business and full service drinks distribution company. Our reach, scale and business channels are fully integrated and diverse; from our London HQ, a 100,000 SQ.FT wholesale Cash & Carry in Park Royal, to one of the UK's fastest growing online retailers:

Drinksupermarket.com

​We continually invest in talented people and with over 200 employees group wide, we are one of the UK\'s leading independent drinks wholesalers.

Working direct with the World\'s biggest drinks and grocery brands, from Nestle to Diageo, we strive to provide an unrivalled selection and service.
HT集团公司成立于1985年,是一家领先的饮料和杂货业务和全方位服务的饮料分销公司。我们的业务范围,规模和业务渠道完全整合和多样化;从我们的伦敦总部,到皇家公园的100,000 SQ.FT批发Cash&Carry,到英国发展最快的在线零售商之一:

Drinksupermarket.com

我们不断投资于人才,集团员工超过200人,是英国领先的独立饮料批发商之一。

我们致力于提供无与伦比的选择
点击图片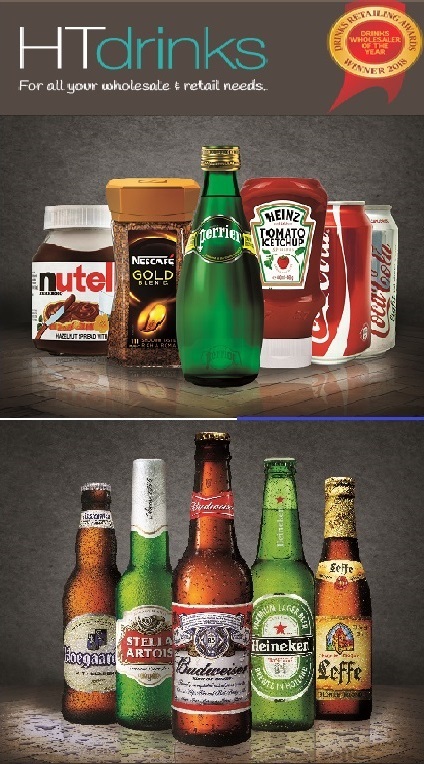 ×