FUJIAN HAIWENMING MARINE SCIENCE AND TECHNOLOGY DEVELOPMENT CO., LTD.
福建海文铭海洋科技发展有限公司
Address:
地址:No.504,Bldg.2,Changtian Industrial Park ,No.2 Changsheng Road,Chang\'an Investment Zone,Fuzhou,Fujian,China
Fax:86
E-mail:topsheng@vip.163.com
Web: www.topou.cn
核心业务: 生产商/Producer 进口商/Importer
我们在寻找: 经销商/代理商
Introduction 公司简介
FUJIAN HAIWENMING MARINE SCIENCE AND TECHNOLOGY DEVELOPMENT CO., LTD.,is located in Fuzhou free trade zone of Fujian Province(covering 60 acres), focusing on the whole industrial chain of abalone including research, production and promotion and related high-end food processing.
We have breeding bases for the breeding of young abalone and raising of grown abalone, as well as modern processing factory.
Our core ideas of management is \'product safety first and high quality\' and keep providing safe, healthy, nutritious high-end food.
We have a professional R&D team, strong technical force, perfect facilities, and advanced facilities with ultralow temperature refrigeration equipment imported from USA which can reach -196 degree.
We have experienced production management team, and strictly control the quality of raw materials, thus we can retain the original flavor and quality of raw materials, ensure product quality stability and quality.
We pay much attention to brand building and marketing channel expanding. Our products have been sold all over China and exported to Southeast Asia, Europe and the United States and other countries.
We also have our B2C online shop in Tmall, Jingdong Mall, Taobao, Alibaba, Suning.com and other e-commerce platform.
Our products are frozen abalone, frozen FO TIAO QIANG, imported sea cucumber, conch slices, seed weed from Chie and other high-end food.
Our products with"Haiwenming" brand have been highly appreciated by customers.
福建海文铭海洋科技发展有限公司(福建正方盛食品工业有限公司),位于福建省福州自贸区内,是一家致力于鲍鱼全产业链研究、生产和推广以及相关联的中高端食材深加工的企业,拥有鲍鱼育苗基地,出口鲍鱼养殖基地及现代型的加工厂,始终坚持"产品安全第一、品质至上"的经营理念,供应安全、健康、营养的中高端食材。产品以海文铭牌冷冻鲍鱼系列、冷冻佛跳墙、进口海参、黄金鲍片、海松茸等中高端食材为主。线上线下渠道全网营销。
点击图片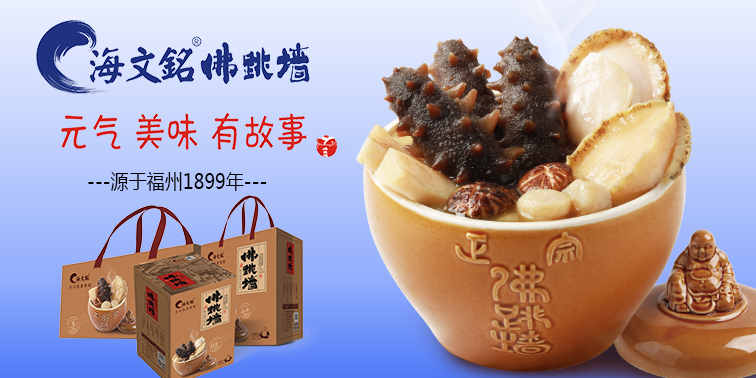 ×